DATA QUERY, REPORTING AND ACCESS
Website Statistics
Access statistics for www.pdb.org and ftp://ftp.wwpdb.org for the second quarter of 2008 are given below.
| | | | | | |
| --- | --- | --- | --- | --- | --- |
| Month | Unique Visitors | Visits | Bandwidth | HTTP Downloads | FTP Downloads |
| Apr 08 | 134119 | 309222 | 585.77 GB | 3463641 | 15633685 |
| May 08 | 123862 | 286612 | 607.73 GB | 3237762 | 10749266 |
| Jun 08 | 132168 | 317814 | 651.02 GB | 3328550 | 8903617 |
---
Secondary Structure Information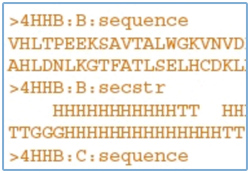 A plain text file containing sequence and secondary structure information in FASTA format for all structures is available from www.rcsb.org/pdb/files/ss.txt. A separate file, www.rcsb.org/pdb/files/ss_dis.txt, includes disordered regions in addition to the secondary structure.
These files, which replace analogous ones previously found in the FTP tree, are updated weekly.
---
Approximately 140,000 unique visitors explore the RCSB PDB website at www.pdb.org each month (identified by unique IP address). During this period, these users download more than 500 GB (GigaBytes) of data. At the same time, about 7,000 unique visitors download more than 10 million files from the FTP site at ftp://ftp.wwpdb.org, for a total of about 2 TB (TeraBytes) of data. The PDB archive is also accessed through FTP sites supported by wwPDB members PDBe and PDBj.
There were more than 100 million FTP file downloads, with peak download rates of more than 10 files per second, during the six-month period that followed the August 2007 release of the archive of remediated data. In comparison, less than 10 million files were downloaded in all of the year 2000.
Visitors from 150 countries visit the RCSB PDB FTP and website. Approximately one third of all visitors are from the United States, another third from Europe, and a final third from the rest of the world. Since users are accessing data from around the globe, traffic is evenly distributed over the course of 24 hours. On an average day, download rates never drop below 50% of peak daytime values.
Standard server log information, such as IP address, time spent on the site, and browser type, is collected and assessed on an aggregate, rather than individual, basis in order to track site statistics, identify data popular to our visitors, monitor performance, and troubleshoot. Studying access statistics and usage patterns helps to project future hardware needs, and aids in the design of new functionality. We also use this information for site and system security. We do not share server log information with third parties for marketing or other purposes.