OUTREACH AND EDUCATION


Click on the PDB-101 logo to access the education view; click on the blue logo in the top left at any time to access the main RCSB PDB website. PDB-101 packages together resources that promote exploration in the world of proteins and nucleic acids for teachers, students, and the general public. Major topics include:

• Structural View of Biology. Built around the Molecule of the Month series, this feature promotes a top-down exploration of the PDB. Starting with high-level functional categories, readers can browse through descriptive subcategories to access relevant articles that describe molecules in simple terms and access the related PDB entries. Mouseovers, pulldown menus, and carousels all offer easy navigational tools to promote learning.

• Molecule of the Month. Since 2000, the RCSB PDB has published articles that describe the structure and function of a molecule along with interactive views, discussion topics, and links to structure examples. The collection of these articles provides an annotated view of the PDB archive. Molecule of the Month columns appear on single pages, with links to printable PDF versions and downloadable high-resolution images. They can be accessed using the pulldown menu in the top bar, through the Structural View of Biology interface, and by archives organized by title, date, and category.

• Related Educational Resources and materials, including posters, animations, and classroom lessons and activities. Recently, a poster and animation of the structure of the HIV virus was added.

• Understanding PDB Data, a reference to help explore and interpret individual PDB entries. Broad topics include how to understand PDB data, how to visualize structures, how to read coordinate files, and potential challenges to exploring the archive.

To enter PDB-101, click on the blackboard PDB-101 logo or its related widget in the left-hand menu to reveal an education-centered website. This view offers easy navigation: select any Molecule of the Month article from the top bar menu or mouse over the upper-left PDB-101 pulldown menu to jump to other sections. Select the blue RCSB PDB logo from the top of the page at any time to access RCSB PDB deposition and query services from the main website.

Related materials for learning about the RCSB PDB website include a suite of tools (narrated tutorial, slides, and exercises) from openhelix.com; short online screencasts that demonstrate how to use different RCSB PDB tools; and contextual help and examples available where

appears.

To link directly to this view, use www.pdb.org/pdb-101.
---
At the 19th Annual International Conference on Intelligent Systems for Molecular Biology (ISMB) and 10th European Conference on Computational Biology (July 15-19; Vienna, Austria), Senior Scientist Andreas Prlić described A Census of internal pseudo-symmetries and similarities in protein domains at the Laptop/Poster session of the 3Dsig satellite meeting. Scientific Lead Peter Rose helped users Become an expert user of the RCSB Protein Data Bank website and Web Services at the Technology Track session.

At the 25th anniversary symposium of the Protein Society (July 23-27, 2011; Boston, MA), annotator Ezra Peisach discussed The PDB at 40: Past, Present, and Future during the poster presentations.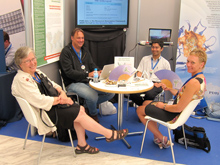 wwPDB members in the exhibition hall. At the XXII General Assembly and Congress of the International Union of Crystallography (IUCr, August 22-30, Madrid, Spain), the RCSB PDB participated in many events with the wwPDB. In addition to a wwPDB exhibit booth and an open wwPDB Q&A Session, there were several presentations.

RCSB PDB Director Helen M. Berman discussed The wwPDB and future perspectives in sharing macromolecular structure data as part of the session Developments and directions for crystallographic databases, chaired by RCSB PDB's Senior Software Architect John Westbrook and Saulius Gražulis (Vilnius University).

John Westbrook also gave a presentation on The wwPDB Working Format: A simplified application of CIF technology during the session Archiving, exchange, and retrieval of scientific data in the 21st century.



Martha Quesada and the poster on the Common Tool for Deposition and Annotation. Depositors also participated in a survey about the deposition process. RCSB PDB annotator Marina Zhuravleva, together with Swanand Gore (PDBe) and Matthew Lightfoot (CCDC), talked about the Validation of small molecule and macromolecular X-ray structures. What are the differences and how can we learn from each other? during the session on Validation, error detection and fraud prevention.

A poster on The wwPDB Common Tool for Deposition and Annotation was presented by RCSB PDB Deputy Director Martha Quesada. Depositors at the meeting gave feedback on the development of the tool, and completed surveys about their thoughts on the
deposition process.
---
Poster Prizes

The RCSB PDB Poster Prize is awarded for the best student poster presentations at selected meetings.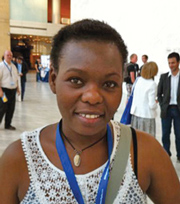 Serah KimaniAt IUCr, the award went to Serah Kimani for Unexpected reactions resulting from mutating catalytic residues in an amidase reveal the role of the catalytic unit (Serah Kimani,a Trevor Sewell,b aDepartment of Molecular and Cell Biology, University of Cape Town, Cape Town (South Africa). bElectron Microscope Unit, University of Cape Town, Cape Town (South Africa)).

The judging committee also recognized Adriana Kantcheva with an honorable mention for Structure of the chloride dependent E290S-LeuT mutant from Aquifex aeolicus (Adriana K. Kantcheva,a Anne-Marie Lund Winther,a Matthias Quick,b Jonathan A. Javitch,b and Poul Nissen,a aCenter for Structural Biology, Dept. Molecular Biology, University of Aarhus (Denmark). bCenter for Molecular Recognition, Dept. Pharmacology, Columbia University, New York).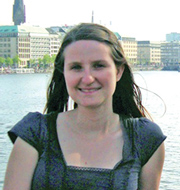 Adriana KantchevaMany thanks to the judges, who worked through all six days of poster presentations: Bernhard Rupp (k.k.Hofkristallamt), Kam Zhang (RIKEN), Manfred Weiss (Helmholtz-Zentrum Berlin), Jochen Mueller Dieckmann (EMBL-Hamburg), George Phillips (University Wisconsin-Madison), Clyde Smith (Stanford Synchrotron Radiation Laboratory), Miroslav Cygler (National Research Council Canada). Special thanks to the Poster Judging Committee Chair Katherine Kantardjieff (California State University San Marcos) and to the IUCr.

At ISMB, Tammy Cheng received the award for Structural biology meets systems biology: Gauging the systemic impact of non-synonymous single nucleotide polymorphisms (Tammy M. K. Cheng1, Linda Jeffery2, Lucas Goehring3, Yu-En Lu4, Jacqueline Hayles2, Bela Novak5, Paul A. Bates,1 1Biomolecular Modelling Laboratory, Cancer Research UK London Research Institute; 2Cell Cycle Laboratory, Cancer Research UK London Research Institute; 3Max Planck Institute for Dynamics and Self-Organization, Göttingen, Germany; 4Computer Laboratory, University of Cambridge, UK; 5Department of Biochemistry, University of Oxford, UK).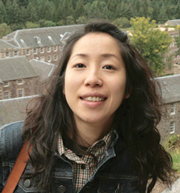 Tammy ChengMany thanks to the judges: Emidio Capriotti (Stanford), Jeroen de Ridder (Delft University of Technology), Javier Diaz (University of Toronto), Nils Gehlenborg (Harvard Medicial School), Milana Frenkel-Morgenstern (Weizmann Institute), Arik Harel (Rutgers), Edda Kloppmann (Technische Universität München), Nathan Nehrt (University of Maryland, Baltimore County), Venkata P. Satagopam (EMBL Heidelberg), Christian Schäfer, Andrea Schafferhans, Markus Schmidberger (Technische Universität München). Thanks also to Poster Committee Chair Yana Bromberg (Rutgers University) and to the International Society for Computational Biology.
---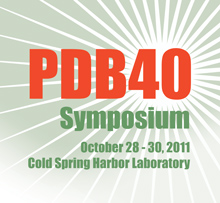 The symposium will begin at 5:30 p.m. with a special reception and dinner on Friday, October 28, and end after lunch on Sunday, October 30.

The speaker program and poster abstracts have been posted on the meeting site at meetings.cshl.edu/meetings/pdb40.shtml.

Registration will be open until all available spaces have been filled.