High school students are excellent science communicators. The submitted entries in this year's Video Challenge focused on Molecular Mechanisms of Opioid Action demonstrate tremendous creativity and used many storytelling approaches.
Congratulations to the 2020 Prize Winners
First Place: Saving Hector's Friend From Opioids by Elena Baraznenok from Bothell High School, Bothell, WA (Team advisor: Sheila Guard)
Second Place: Fighting Opioids: One Punch at a Time by Naomi Yu, Janice Rateshwar, and Harrison Kane from Jericho High School, Jericho, NY (Team Advisor: Michael Giallorenzo)
Third Place (tie): Opioidbusters by Radeha Haque, Christine Chung, Jenni Ren from The Bronx Highschool of Science, Bronx, NY (Team Advisor: Mr. Richard Lee)
Third Place (tie): Visualizing Opioid Action at The Molecular Level: Through Drawn Animations by Minjune Song from Loomis Chaffee School, Windsor, CT (Team Advisor: Elliot Beck)
Viewers' Choice: The Opioid Crisis: Understanding the Mechanisms Behind this Deadly Epidemic by Arya Sasne and Mishal Shafique from West Windsor-Plainsboro High School South, West Windsor, NJ (Team Advisor: Matthew Foret)
Our panel of expert judges (Margaret A. Franzen (MSOE Center for BioMolecular Modeling), Steven W. Levison (New Jersey Medical School, Rutgers University), and Christine D. Young (University of Illinois at Chicago) scored the videos based on Quality of Storytelling (20%), Quality of Science Communication (30%), Quality of Public Health Message (10%), Originality and Creativity (20%), Quality of Production (10%), and Proper Accreditation (10%). The general public voted for the Viewer's Choice Award.

Many thanks to the expert judges, students, teachers, parents, and voters who made this exciting competition happen!
On May 10, 1950, Congress established the National Science Foundation to promote the progress of science, to advance the national health, prosperity, and welfare; and to secure the national defense. This year marks the 70th anniversary of NSF's founding.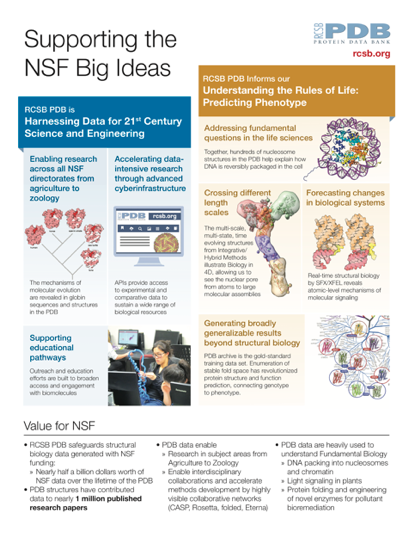 The NSF support for the RCSB PDB and PDB archive has been critical over the years. In return, RCSB PDB works with US Structural Biologists and users of the Cornell High Energy Synchrotron Source (CHESS) to enable research across all NSF directorates from agriculture to zoology.
RCSB PDB supports an international community of millions of users, including biologists (in fields such as structural biology, biochemistry, genetics, pharmacology); other research scientists (in fields such as bioinformatics); software developers for data analysis and visualization; students and educators (all levels); media writers, illustrators, textbook authors; and the general public.
RCSB PDB education efforts are built to broaden access and engagement with biomolecules. Features aimed at training the next generation of PDB users include the Molecule of the Month series, curricular materials and training guides, and individual research experiences for undergraduates.
RCSB PDB is supported by grants from the National Science Foundation (DBI-1832184), the US Department of Energy (DE-SC0019749), and the National Cancer Institute, National Institute of Allergy and Infectious Diseases, and National Institute of General Medical Sciences of the National Institutes of Health under grant R01GM133198. In the past, RCSB PDB was also funded by the National Library of Medicine, the National Center for Research Resources, the National Institute of Biomedical Imaging and Bioengineering, and the National Institute of Neurological Disorders and Stroke.

NSF History Wall, Alexandria, VA
Credit: Nicolle R. Fuller, National Science Foundation
Miles tone PDB structures are included on the NSF History Wall: HIV capsid (PDB structure 3j3q and #20 on Wall); green fluorescent protein (GFP), a powerful cellular biology research tool (PDB structure 1gfl and #26); and CRISPR, the enzyme revolutionizing biotech and health (PDB structure 4P6I and #61).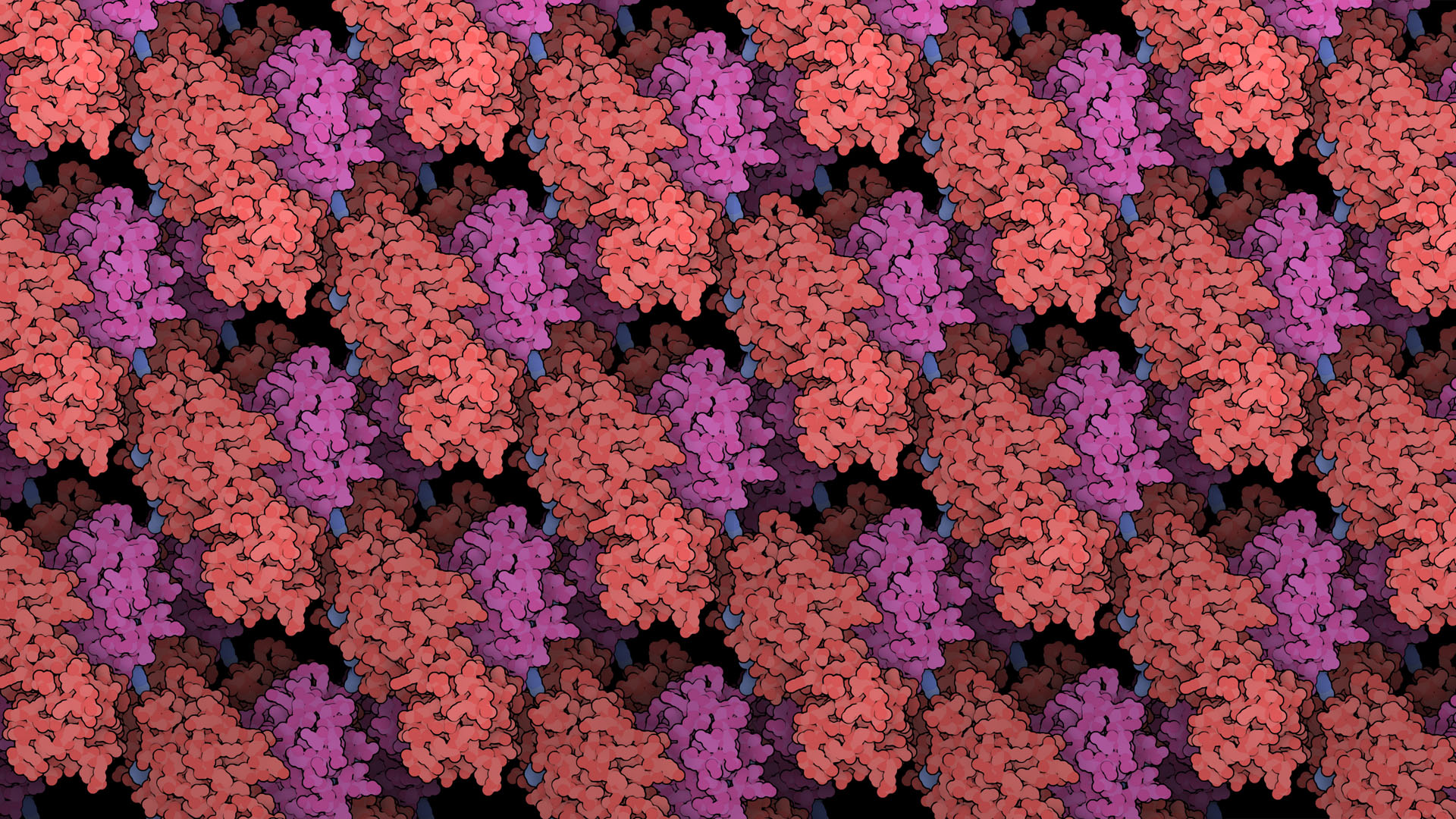 Download images created by David Goodsell to add a molecular backdrop to your next virtual meeting.
Shown is the Coronavirus main protease based on PDB structure 6lu7.
CellPAINT can be used to create drawing pictures of cellular and viral systems. The Scripps Research Center for Computational Structural Biology (CCSB) in association with RCSB PDB hosted a coronavirus image contest created using CellPAINT in the categories of Science and Art. Dozens of entries were submitted from around the world from middle school students to professionals.
Best in Science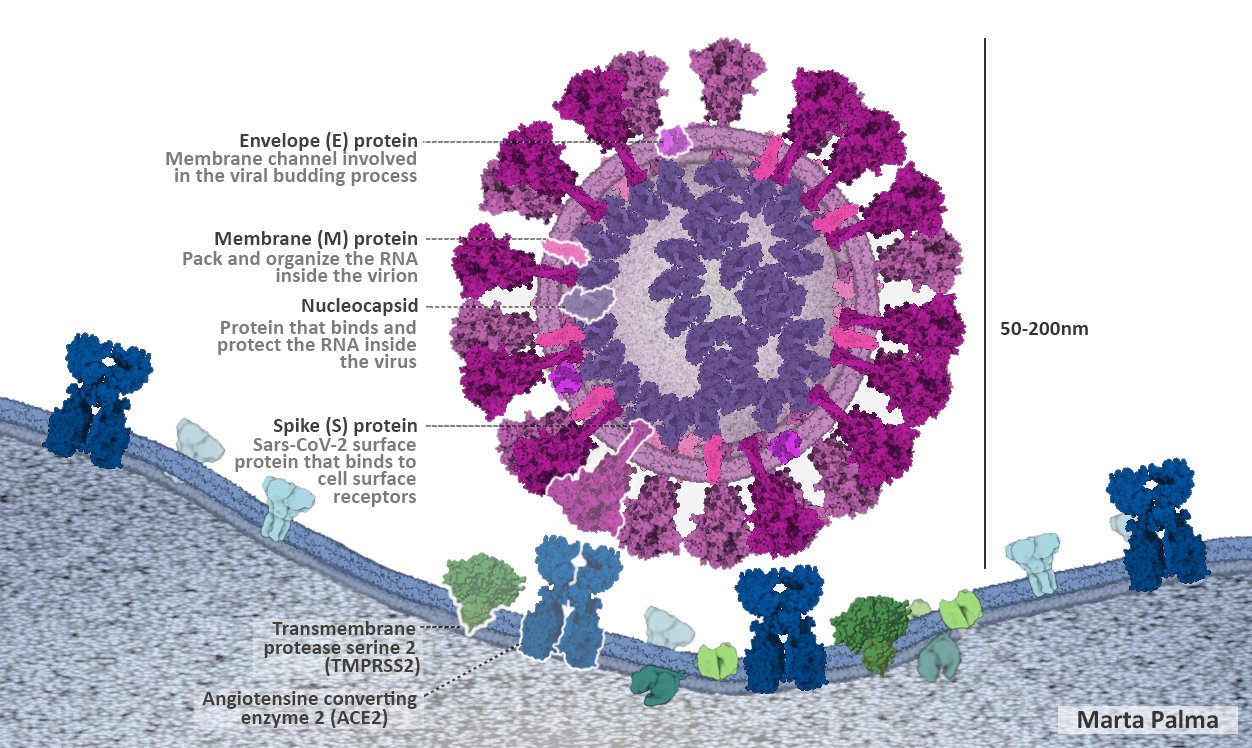 How SARS-CoV-2 interacts with the surface proteins of the target cell by Marta Palma Rodríguez (Graduate Student, Hospital General Universitario de Valencia).
I started using CellPAINT (web-based) to design the illustration. When I finished with the diagram, I used Adobe Photoshop CC 2019 to create the labels and correct the colors. As the receptor TMPRSS2, present in the target cell and very important in the viral priming, is not present in CellPAINT, I decided to look for a serine protease like protein in the PDB and to add it with this program.
Best in Art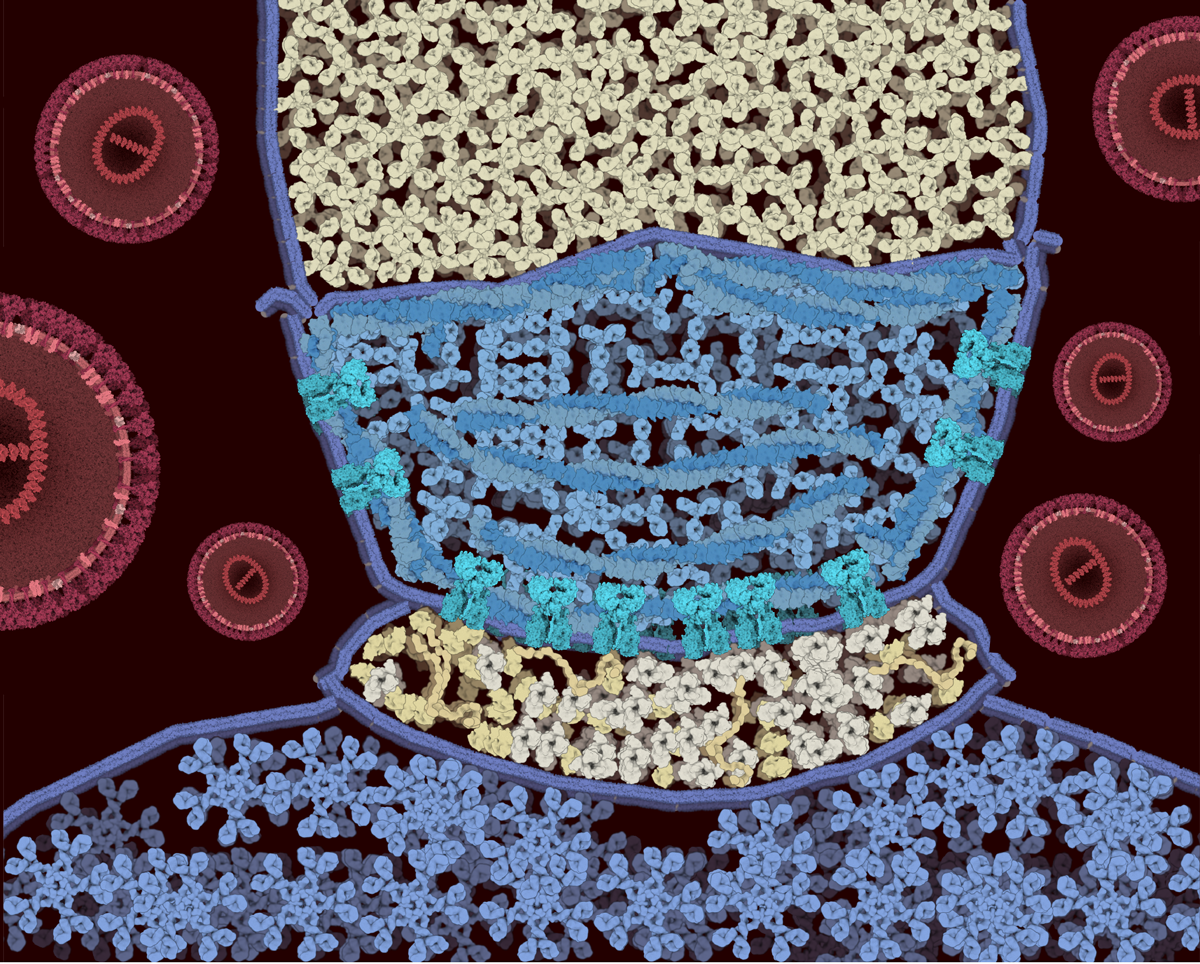 Heroes of hope (Kanika Khanna, Stanford University)
The contest came forth at a time when almost everyone is struggling with the changes accompanying the pandemic. Each of us is grappling with one or another grief and 'hoping' for something good to happen. This contest was a way for me to get out of my own grief and create something that would be a source of joy not only for me but may be someone else out there as well. And who better to dedicate this creation to other than our 'Heroes of hope', the health care workers at the frontline who are fighting the pandemic day in and day out, without any selfish motives. Putting their lives at risk, away from their families, I can't even begin to imagine the agony they must be going through.
The central figure of the creation is a masked healthcare worker and all the components that make up the worker are molecules in our body that fight viral and bacterial infections, antibodies and components of complement system, namely IgA, IgG, IgM and Complement factors C3, H, C4A and B represented in the face, mask, neck and body of the worker. This is to represent that just as our body uses these molecules to fight an infection, the health care worker is fighting the deadly pandemic for the entire world and he/she may be our 'antibody' against the virus, so to say.
The mask also has actin which is known to have a rare combination of strength and sensitivity, being used in some of the most demanding structural activities in the body. This also represents the importance of wearing masks in these times not only to protect ourselves from the virus but others around us. I have also put a few ACE2 receptors embedded in the mask to show that these can be 'buried' or protected from viral infection with the proper use of face masks.
The virus particles shown on the outside have their nucleocapsid proteins arranged in the symbol of 'theta', which is the Greek symbol of death representing the fatal powers of the virus. I am hoping with this creation, I am able to reach out to a broader audience with two messages. As the title of the creation 'Heroes of hope' suggests, we need to thank our healthcare workers big time for the contributions they are making to fight the deadly pandemic. Second, we need to be more vigilant about how we conduct ourselves so that we can keep each other safe during these tough times. Only then can we hope for a better future for the world today!