Message from the RCSB PDB
In 2008, the RCSB PDB reached several milestones and released many new resources.
The 50,000th structure was released in the PDB archive in April, and by the end of December, more than 55,000 structures were available. All of these structures offer opportunities for learning-whether through their novelty, complexity, or even their similarity with other structures.
April's Molecule of the Month feature on adrenergic receptors was the 100th installment of the series. Since January 2000, Molecule of the Month has explored the structure and function of proteins and nucleic acids found in the PDB archive such as transfer RNA, anthrax toxin, and multidrug resistance transporters. By highlighting these structures, this ongoing feature provides a good entry point for navigating through all of the structures available in the PDB archive.
Another educational resource, the recently-released Looking at Structures, is intended to help researchers and educators get the most out of the PDB archive. Broad topics include how to understand PDB data, how to visualize structures, how to read coordinate files, and potential challenges to exploring the archive.
For depositors, a variety of tools were released to help streamline the deposition process. Resources such as SF-Tool, which validates and translates structure factor files, and Ligand Expo, which can be used to search and build chemical components, join proven resources such as pdb_extract and ADIT. The wwPDB's publication of the Comprehensive Format Guide Version 3.2 marks another achievement towards the standardization of the archive.
Website features, including the enhanced RSS feed, 3D views of domain information, and Advanced Search, offer a diverse tool set for accessing PDB data.
These features were all developed with input and feedback from our diverse user community. We look forward to this continued collaboration in 2009.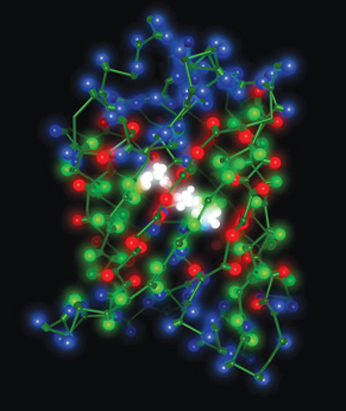 This image of green fluorescent protein was created by David S. Goodsell using the Python Molecular Viewer (mgltoools.scripps.edu). Structure shown is PDB ID 1gfl (F. Yang, L.G. Moss, G.N. Phillips Jr. (1996) The molecular structure of green fluorescent protein. Nat.Biotechnol. 14: 1246-1251).