EDUCATION CORNER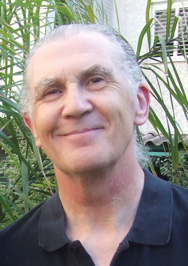 JAIME PRILUSKY
(Jaime.Prilusky@weizmann.ac.il) is the Head of the Bioinformatics Unit at the Weizmann Institute of Science in Rehovot, Israel. He received his Ph.D. in neuroendocrinology from the National University of Cordoba, Argentina in 1974, and was a professor at the National Technological University in Argentina before joining the Weizmann Institute in 1989. An early online pioneer in bioinformatics, Jaime developed the first web interface to search and retrieve PDB data, called 3DB, and founded BioMOO (a virtual meeting place for biologists). In addition to Proteopedia his projects include OCA (oca.weizmann.ac.il), a browser-database for protein structure/function and GeneCards (www.genecards.org), an electronic encyclopedia integrating information about the functions of human genes and their products, and of biomedical applications based on this knowledge. For more, see miw.weizmann.ac.il.
Proteopedia: An online, collaborative 3D-encyclopedia of proteins & other molecules by Jaime Prilusky, Ph.D., Weizmann Institute of Science
As a wise man said, "A picture is worth a thousand words," and it happens to be true most of the time. Try to imagine this scene: "The amino acid residues near the heme group in hemoglobin shift as the heme group converts between the non planar and the planar conformation by binding and releasing a molecule of O2." A description like this might elicit the proper mental image from an experienced crystallographer, and a somehow correct image from a biologist. You don't want to know what university or high-school students can make of it.
It's well known that the relationships between protein structures and functions are difficult to grasp, even for crystallographers. Masterpiece works like Goodsell's Molecule of the Month pages, with crisp and attractive drawings of molecules and easy-to-follow, accurate textual descriptions, greatly aid the understanding of the 'what,' 'why,' and 'when' around structures. Still, the connection between the words and the flat drawings are left as a mental exercise for the reader. And anything can happen when imagination flies.
Proteopedia came to the rescue with a simple concept: a web page (any platform, any browser) with a descriptive text, a '3D' structure that the user can rotate and change at will, and green 'hot' words between the text that interact with the 3D structure when clicked.
Before Proteopedia, the sequence of events while reading about structure and functions was something like this: first, read the description; then, imagine how this translates onto the static image.
With Proteopedia, the sequence of events is: click on the green words while reading the text description; then, observe the structure coming alive, rotating and changing its form to demonstrate what the text suggests. A whole new and rich experience of discovery for students and for teachers!
It's not surprising that education is one of the fields where Proteopedia's scenes have more impact. Teaching how data in a PDB file from a NMR experiment differs from that of an X-ray experiment might be possible, but it's easier if the student is able to compare, play, and manipulate representations of the 3D model of NMR and X-ray structures. This figure shows successive snapshots of a rotating representation of the PDB entry 2gmd, from an antimicrobial protein solved by NMR. The balanced use of solid and semi-transparent colors enhances the browsing of NMR structures.
Proteopedia was created in 2007 at the Weizmann Institute of Science, Israel, by Joel Sussman, Eran Hodis, and Jaime Prilusky, with brainstorming and suggestions from Israel Silman, John Moult, and Eric Martz.1 Since its creation, the number of users has grown steadily, as has the number of pages contributed by users and the range of fields where Proteopedia is being used.
Who's using Proteopedia.org?
High Schools as live support for classes, with richer interaction than a movie or a static image, and as support for student's self-paced learning.
Universities, as live support for lectures and self-paced learning, as media for final projects and theses, and as a central topic for discussion at students' clubs.
Researchers use Proteopedia as a source of information and as a secure shared collaboration site with remote partners.
Journals as an Interactive 3D Complement (I3DC) for their papers.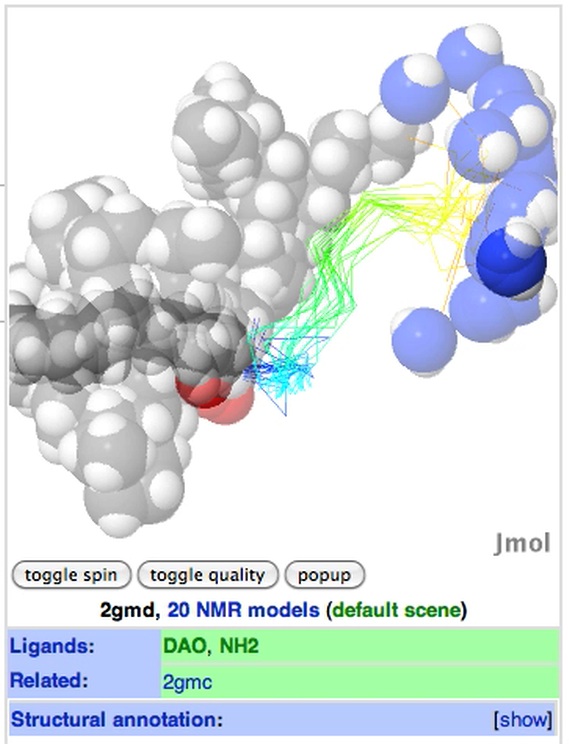 View of 2gmd in Proteopedia.Some Proteopedia pages become especially popular, indicating the role they play in the daily life of researchers and students. The most-accessed articles are Teaching Scenes, Tutorials, and Educators' Pages, Avian Influenza Neuraminidase, Tamiflu and Relenza, Hemoglobin, Acetylcholinesterase, HIV-1 Protease, Ribosome, Photosystem II, Lac Repressor, and Adenylyl Cyclase.
There are also Proteopedia pages on basic knowledge that help in understanding the data handled and maintained in the PDB, like Atomic Coordinate File, Resolution, PDB Identification Code, and Protein Data Bank.
Proteopedia couldn't exist without the structure files watched over by the wwPDB. The coordinates in the structure files provide the base for the 3D representation, and Proteopedia keeps a weekly updated selection of pages, including every one of the more than 70,000 PDB structures.
Creating Proteopedia pages with colorful live scenes is easy. The site contains text and video tutorials, and even 'crash course' instructions for the impatient. During our hands-on workshops, people start creating live 3D scenes in the first 30 minutes. When creating pages on Proteopedia, you may choose between different degrees of protection, depending on the namespace where the page is located, as described on the table. Workbench pages offer the ideal shared protected environment for collaboration. They are protected for read/write access, and the page creators may grant, to any Proteopedia user, read access to owned Workbench pages via provided tools.


Levels of read/write access for Proteopedia creators and community editors
Finally, if you're searching for a topic to motivate your students or to discuss at your next talk, take a look at Proteopedia's Believe It or Not!, a page containing a list of useful, useless, or simply interesting facts about proteins, structures and what's around them. This page is automatically updated by OCA, the browser and database for structure and function.
Give Proteopedia.org a chance to help you, your partners, and students to better explain and understand the relationship between structure and function.
---
1. E. Hodis, J. Prilusky, E. Martz, I. Silman, J. Moult, J.L. Sussman (2008) Proteopedia - a scientific 'wiki' bridging the rift between three-dimensional structure and function of biomacromolecules. Genome Biol. 9: R121. doi:10.1186/gb-2008-9-8-r121