DATA QUERY, REPORTING AND ACCESS
Since January 2000, the RCSB PDB's Molecule of the Month has been introducing readers to the structure and function of the many nucleic acids, proteins, and complex assemblies found in the PDB. In 2010, the series looked at:
Out of these newer articles, the features on P-glycoprotein and 70S ribosomes were the most popular, with articles on hemoglobin and catalase the most read overall. Molecule of the Month articles were accessed close to 800,000 times in 2010.
The archive of all Molecule of the Month features is accessible by a list view, organized by date, title, or topic category, or by drilling down through categories and subcategories.
---
Quick Survey on the Educational Uses of Molecular Visualization
Responses Needed:
http://www.surveymonkey.com/s/62TL6ZJ

To develop a systematic view of how molecular visualization is used in education, Paul Craig (Rochester University), Bob Bateman, and Lea Michel (University of Southern Mississippi) are surveying the biochemistry and molecular biology community. They plan to present the results at an upcoming meeting of the American Society for Biochemistry and Molecular Biology. For related information, see the Spring 2010 RCSB PDB's Newsletter Education Corner on A Proficiency Rubric for Biomacromolecular 3D Literacy by Robert C. Bateman, Jr. and Paul A. Craig (http://bit.ly/hsHhkz).
---
Annual Report Published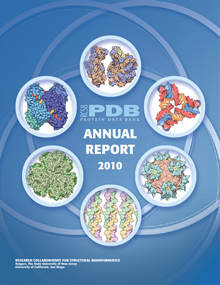 Download the 2010 Annual Report PDF The 2010 Annual Report for an overview of the RCSB PDB resource and its recent activities.
Since 2000, the Annual Report has provided yearly snapshots of the project. With this year's edition, printed reports will not be mailed directly to users. The report can be downloaded in PDF format from www.pdb.org/ar10.
Aimed at the RCSB PDB's diverse community of PDB users in academia, industry, and education, the report highlights recent accomplishments in the report period of July 1, 2009 - June 30, 2010. It explores the RCSB PDB's different activities in "data in" (data deposition, validation, and annotation), "data out" (data access, query, and reporting), and corresponding outreach and education activities.
---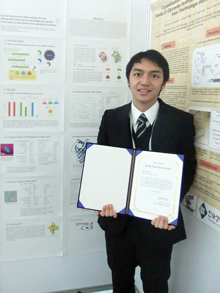 Takuya YoshizawaTakuya Yoshizawa received the poster prize at the 10th Conference of the Asian Crystallographic Association held in Busan, Korea (October 31 - November 3, 2010) for Crystal structures of extra cellular dermal glycoprotein from carrot and xyloglucan specific endo-b-1,4-glucanase from Aspergillus aculeatus by Takuya Yoshizawa (1), Hiroshi Hashimoto (1), Toshiyuki Shimizu (2), Hisashi Hirano(1) and Mamoru Sato (1)

(1) Graduate School of Nanobioscience, Yokohama City University;
(2) Graduate School of Pharmaceutical Sciences, The University of Tokyo).
Many thanks to the judges: Eunice Kim (Korea Institute of Science and Technology), Kunio Miki (Kyoto University), Zhi-Jie Liu (Institute of Biophysics, Chinese Academy of Sciences) and Soo Hyun Eom (Gwangju Institute of Science and Technology), and to Mitch Guss, Jenny Martin, and the Asian Crystallographic Association.

---
A variety of activities took place in Fall 2010.
The Advisory Committees of the RCSB PDB and the wwPDB met at the beginning of October 2010. The presentations and reports from these meetings are available online.
At the New Jersey Science Convention for area teachers, the RCSB PDB hosted an exhibit booth, and presented a hands-on workshop about the Structure of tRNA and its interaction with the ribosome (October 12-13, Somerset, NJ).
At Cold Spring Harbor Laboratory's course X-ray Methods In Structural Biology (October 11-26), John Westbrook presented PDB Tools for Depositors. He also gave a talk about the RCSB PDB at the International Circular Dichroism and Bioinformatics Conference and EU/UK Annual CD Meeting (December 3, Warwick University, UK).
RCSB PDB Director Helen M. Berman received a 2010 Department of Chemistry Alumni Award from the University of Pittsburgh. Associate Director Philip E. Bourne received the Jim Gray eScience Award from Microsoft Research.
---
25th Annual Meeting on HIV/AIDS-related Structural Biology

The NIH will sponsor the 25th annual meeting to discuss exciting progress made by structural biologists in the study of HIV. This meeting will be held from March 28-30, 2011 on the NIH campus in Bethesda, MD. It is free and open to the public, but advance registration is required. For more information, see meetings.nigms.nih.gov/?ID=10905