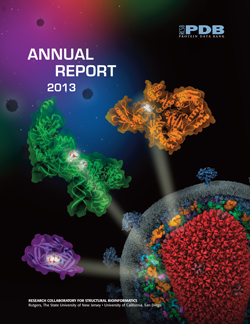 The recently published Annual Report highlights the RCSB PDB's accomplishments from July 2012-June 2013. It also reviews topics ranging from the new wwPDB Common Deposition & Annotation System to tools for exploring protein stoichiometry and symmetry to the online educational resources of PDB-101.

This edition's cover highlights examples of protein-drug complexes involved in the fight against HIV. The illustration serves as a bridge to 2014 outreach efforts that will focus on the structural biology of the HIV virus, including a video challenge for high school students described in this newsletter.

These annual bulletins provide a yearly snapshot of RCSB PDB activities and the state of the PDB archive. This edition, the RCSB PDB's fourteenth, is available as a PDF download from www.rcsb.org. If you would like a printed copy, please send your postal address to info@rcsb.org.
ABRCMS
At the Annual Biomedical Research Conference for Minority Students (ABRCMS; November 13-16; Nashville, TN), many students visited the RCSB PDB exhibit booth and voted for their favorite molecule. The meeting provided an opportunity to mee

Signed copies of The Machinery of Life (by Molecule of the Month author David Goodsell) will be raffled off in the exhibition hall.

The Machinery of Life was recently highlighted in a commercial that can be viewed online.


World AIDS Day Symposium
On December 7, 2013, Rutgers hosted presentations from leading clinicians and scientists about the history of HIV/AIDS, its clinical management and the science that has led to the design of specific anti-HIV drugs. Attendees learned about the molecular basis for why patients develop resistance to anti-HIV drugs, and the challenges in the quest for an HIV vaccine. Patient panels discussed what it means to be living with HIV.

This public event was sponsored by the RCSB PDB along with the Rutgers Childrens AIDS Network and the Robert Wood Johnson AIDS Program.
The RCSB PDB Help Desk supports people from all over the world who write daily for assistance with the website, archive and general structural biology. About 1000 electronic conversations are initiated by nearly as many unique users in any given year. Questions come from students new to structural biology, users interested in the general study of science, and domain experts from various disciplines that utilize PDB data.

Many of these conversations lead to new developments and enhancements to the website and services offered.

Frequently asked questions include:

Q: Can I use this figure in my lecture/thesis/book?
A: All images, including Molecule of the Month illustrations, can be reprinted. Citation and full usage information is listed online.

Q: Is there a Web Service that will return entity descriptions?
A: Entity descriptions access is one of the RESTful (REpresentational State Transfer) Web Services offered to make accessing data easier. A full list of available services is available; please let us know if there are other services that you would like to use.

Q: What is a PDB chain?
A: The term "chain" refers to a protein or nucleic acid macromolecule. A PDB entry may have multiple copies of the same "chain." For example, hemoglobin entry 4hhb contains 4 protein chains: 2 copies of the alpha chain and 2 copies of the beta chain. See PDB-101's Understanding PDB Data for more.

Q: How do structures on hold for publication get released?
A: The wwPDB aims to release entries as close to the publication date as possible. With some entries, journals provide advance publication notice, and for others, citation information is sent by the structure authors or other users. Software is also regularly used to search for matches in PubMed. Have a citation? Please send it to the help desk.

Want to learn more?
Read The Ins and Outs of the RCSB PDB Help Desk: What do we learn from our users? What do they learn from us? by Rachel Kramer Green from the Spring 2013 Newsletter