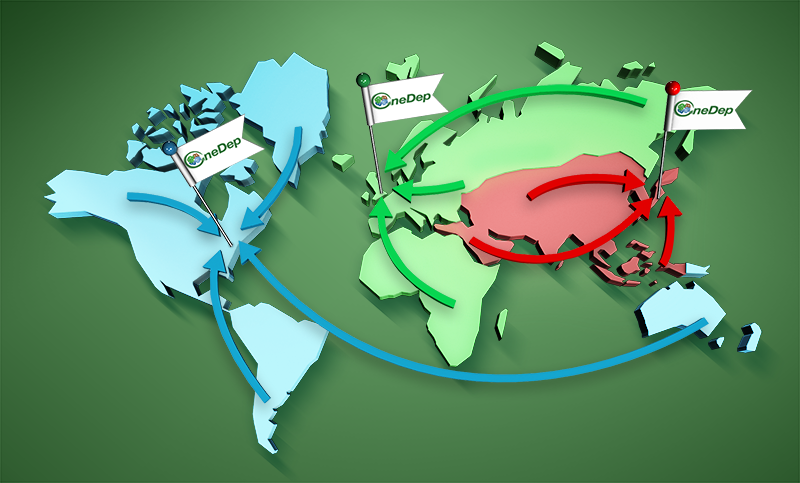 OneDep is the wwPDB's unified system for the deposition, biocuration, and validation of macromolecular structures globally across all wwPDB, EMDB, and BMRB deposition sites.  It was developed to meet the evolving requirements of the scientific community to archive structural data over the coming decades.
OneDep provides a user-friendly deposition interface and improved structure validation with the benefit of recommendations from expert task forces representing the respective methodological communities. The processing efficiency in biocuration is improved as OneDep supports a more automated workflow.
As Milka Kostic, the Senior Editor at Structure and Cell Chemical Biology notes in the CellPress CrossTalk blog, OneDep's support for both depositors and Biocurators is a step in the right direction:
What impresses me the most about OneDep, as well as previous systems, is how much of this global enterprise rests on the shoulders of Biocurators, the unsung heroes of the PDB. Although we have been working to outsource a great deal of checks and balances to algorithms and machines, the fine checking, annotation, curation, and decision-making are done by a dedicated team of the PDB Biocurators.
The OneDep system is described in detail in a recent issue of Structure:
OneDep: Unified wwPDB System for Deposition, Biocuration, and Validation of Macromolecular Structures in the Protein Data Bank (PDB) Archive J. Young, J. D. Westbrook, Z. Feng, R. Sala, E. Peisach, T. J. Oldfield, S. Sen, A. Gutmanas, D. R. Armstrong, J. M. Berrisford, L. Chen, M. Chen, L. Di Costanzo, D. Dimitropoulos, G. Gao, S. Ghosh, S. Gore, V. Guranovic, P. M. S. Hendrickx, B. P. Hudson, R. Igarashi, Y. Ikegawa, N. Kobayashi, C. L. Lawson, Y. Liang, S. Mading, L. Mak, M. S. Mir, A. Mukhopadhyay, A. Patwardhan, I. Persikova, L. Rinaldi, E. Sanz-Garcia, M. R. Sekharan, C. Shao, G. J. Swaminathan, L. Tan, E. L. Ulrich, G. Van Ginkel, R. Yamashita, H. Yang, M. A. Zhuravleva, M. Quesada, G. J. Kleywegt, H. M. Berman, J. L. Markley, H. Nakamura, S. Velankar, S. K. Burley. (2017) Structure 25: 536-545 doi: 10.1016/j.str.2017.01.004
The wwPDB is preparing an update of PDBx/mmCIF model files for all entries in the PDB archive to V5 version of the PDBx/mmCIF dictionary. When completed, all PDB model files will have better organized content and will conform to the revised data model used within the wwPDB OneDep System.
In May, updated model files for all experimental methods will be made available in a new PDB FTP server (ftp://ftp-beta.wwpdb.org/pub/pdb/data/structures/), and the corresponding PDBx/mmCIF dictionary will be released.  Users are strongly encouraged to review and test these updated data files.
In July, the current PDB FTP archive will be updated with new files corresponding to the V5 PDBx/mmCIF dictionary.  Visit wwpdb.org for current documentation.