On January 1, 2019, the PDB archive contained 147,610 experimentally-determined 3D structures of proteins, nucleic acids, and complex assemblies that help students and researchers understand all aspects of biomedicine and agriculture, from protein synthesis to health and disease. RCSB.org hosted >1 million unique visitors from around the world.
Outreach and Education was a focus of RCSB PDB activities in 2018. Milestones included:
~40 meetings, presentations, & events
~800K PDB-101 visit sessions
~350K What is a Protein video views
Hundreds of student-built protein models at science festivals and in classrooms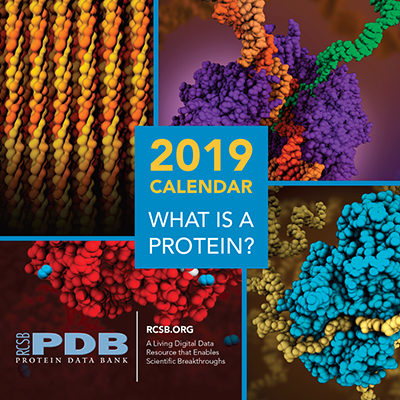 Celebrate 2019 with a new calendar inspired by the popularity of PDB-101's What is a Protein? video. Proteins play vital roles in all living organisms. Their specific amino acid sequences give proteins their distinct shapes and chemical characteristics. Proteins rely on the recognition of specific 3D molecular shapes to function correctly for DEFENSE, TRANSPORT, ENZYMES, STRUCTURE, STORAGE, and COMMUNICATION. These protein shapes and functions are highlighted in this calendar and other resources.
Download the calendar as a PDF or access these images and more from PDB-101.