Message from the RCSB PDB
The 2007 Annual Report explores the advances made in data deposition, query, and outreach by the RCSB PDB during the past year. In particular, the report highlights the release of the data from the wwPDB's Remediation Project that has dramatically improved the data represented within the PDB archive, as evidenced by the higher quality searching and reporting capabilities now possible on the RCSB PDB website
and database.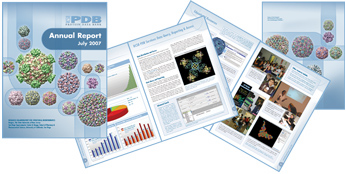 The 2007 Annual Report (download PDF)
The virus images shown on the Annual Report cover also illustrate one of the many improvements made by the wwPDB Remediation Project. Capsids were once difficult to properly construct, but can now be created directly from the PDB entries.
This report is distributed to the diverse community of PDB users in academia, industry, and education. If you would like a printed copy of this report, please send your postal address to info@rcsb.org.