DATA QUERY, REPORTING AND ACCESS
Website Statistics
The RCSB PDB website at www.pdb.org began to utilize the data from the wwPDB remediation project starting August 1, 2007. Access statistics for this website are given below.
| | | | |
| --- | --- | --- | --- |
| Month | Unique Visitors | Visits | Bandwidth |
| Aug 2007 | 87494 | 225428 | 380.69 GB |
| Sep 2007 | 118631 | 294060 | 482.76 GB |
| Oct 2007 | 157581 | 389647 | 608.34 GB |
| Nov 2007 | 156243 | 373904 | 662.43 GB |
| Dec 2007 | 120351 | 284523 | 408.06 GB |
---
Automated Downloads of PDB Data from ftp://ftp.wwpdb.org
As previously announced, the PDB archive has been moved to ftp://ftp.wwpdb.org.

Updated weekly, this location maintains the files from the wwPDB Remediation Project and all newly released files. The archive currently contains approximately 350,000 files, including coordinate data in PDB, mmCIF, and PDBML/XML formats, and experimental data. Since the entire archive requires more than 70 GB of storage, fresh downloads require a substantial amount of time. In December 2007, more than 27 million files were downloaded from ftp.wwpdb.org.

During the same period, approximately 2.4 million files were downloaded from the snapshot of unremediated data at ftp.rcsb.org. Users should be aware that this site is no longer updated, and are strongly encouraged to update any automatic scripts or bookmarks to ftp://ftp.wwpdb.org.
Data files from the archive can be accessed online in a variety of ways, including: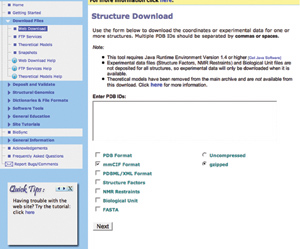 At ftp://ftp.wwpdb.org/pub/pdb/README, users will find download information for downloading:
A single file via ftp
The entire archive via rsync
All files in a given format (PDB, CIF, XML) via rsync
The entire archive via ftp
All files in a given format (PDB, CIF, XML) via ftp using tar balls
---
RCSB PDB Focus: Sorting Search Results
Following a search that produces multiple entries, the results set can be sorted by choosing 'Sort Results' from the menu on the left hand side of the page.

For most searches, the sorting options include: PDB ID, Release Date, Residue Count, Resolution and Rank (useful with keyword searches).

An Advanced Search by sequence (Advanced Search >> Sequence Features >> Sequence (Blast/Fasta)) allows the user to sort results by PDB ID, formula weight and E value.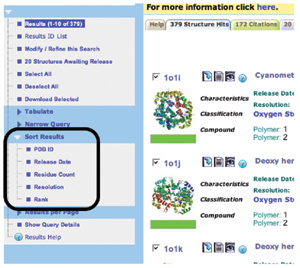 Structures matching your search constraints can be sorted according to ID, release date,
residue count, resolution, and the rank of how closely they match the query (shown in green).
---
Positions Available at the RCSB PDB

The RCSB PDB has the following positions available:
Senior Scientist/Scientific Software Developer (UCSD)
Lead Web Architect (UCSD)
Biochemical Information & Annotation Specialist (Rutgers)
For more information, select the "Job Listings" link at www.pdb.org.