Outreach and Education
Online Narrated Tutorial Demonstrates How to Use the RCSB PDB
Comprehensive training materials to introduce users to the features and functionality of the RCSB PDB are now freely available at openhelix.com. The new training tools include an online narrated tutorial that demonstrates basic and advanced searches, how to generate reports, the different options for exploring individual structures, and many of the resources and tools available at the RCSB PDB for research and education. The full tutorial runs for about an hour, and can be navigated by specific chapters.
The animated PowerPoint slides used as a basis for the tutorial can be downloaded, along with slide handouts and exercises. These materials are freely available for teachers and professors to create classroom content.
OpenHelix has also created Quick Reference Cards for the RCSB PDB that highlight search strategies, features and functionality. The cards can be ordered at openhelix.com at no cost; shipping is free within the United States.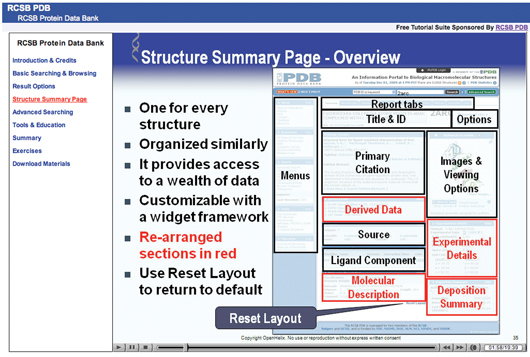 ---
Poster Download: How Do Drugs Work?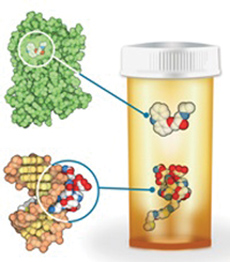 A new poster that explores different kinds of protein-drug structures found in the PDB archive is available for download as a poster (26 x 38") and flyer (8 1/2 x 11").
How Do Drugs Work? was inspired by the success and enduring popularity of 2002's poster on Molecular Machinery: A Tour of the Protein Data Bank. That poster, which depicts many PDB structures drawn to scale, is also available.
Written and illustrated in a style similar to the Molecule of the Month series, the poster uses PDB structures to discuss antibiotics and antivirals, chemotherapy, drug metabolism, drugs of signaling proteins, and lifestyle drugs.
All posters and flyers are available from the RCSB PDB's Educational Resources page. Printed copies will be distributed at scientific and educational meetings.
---
NJ Science Olympiad Protein Modeling Results
High school teams across New Jersey demonstrated their understanding of hemagglutinin, neuraminidase, and protein structure at Science Olympiad competitions held across the state.
At the RCSB PDB-sponsored protein modeling trial event, teams submitted their hand-built 3D models of a hemagglutinin protein with an abstract to be judged by staff from the RCSB PDB. These models were enhanced with different features to help tell the story of hemagglutinin's function. At the competition, teams quickly built a model of a selected protein region using Jmol and completed a written exam with questions about protein structure and influenza. Teams used the Molecule of the Month and other RCSB PDB resources to help prepare for this event. 35 teams competed in this event at three regional tournaments in January.
The top scoring teams were: