EDUCATION CORNER

Approximately 400 students from Long Island will compete in the next Protein Challenge on December 9, 2010. The event will look at lung cancer and anti-smoking campaigns while focusing on the epidermal growth factor receptor in complex with the chemotherapy agent Tarceva (PDB ID 1m17).

For information, see
www.stonybrook.edu/cesame/
teachers/Competitions/
ProteinModeling
ChallengeHome.html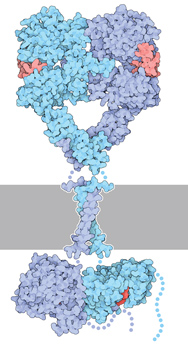 Epidermal Growth Factor was the Molecule of the Month in June 2010 (doi: 10.2210/rcsb_pdb/
mom_2010_6).
Protein Challenge by Joan Kiely
Did you ever imagine insulin as a two-chain protein nestled in a knitted pancreas cozy? Draw a link between Willy Wonka and diabetes? See ribonuclease A as an aggressive toothed snake devouring stray RNA molecules? Students participating in the Protein Challenge see proteins just that way, as tangible things with form and function inextricably linked.

The Stony Brook University Protein Challenge is a competition for high school students. Working in teams, students research and build a model of a specific protein based on the structural data in the PDB. We select the Protein Challenge target protein from a Molecule of the Month feature at the RCSB PDB, and focus on a single protein file and associated paper, such as insulin in 2009 and epidermal growth factor receptor in 2010. Students are responsible for studying the published paper describing the structure, and for collecting sufficient background information to understand the function and importance of the protein. They then build a model of the protein using a foam-covered wire as the carbon backbone (Mini-Toobers from www.3dmoleculardesigns.com). Their creativity and understanding is demonstrated by the additions that they make to show significant side chains, ligands and other key features of the protein. The students also write a short essay explaining the function of the protein and how that is reflected in their model. They spend two months researching the protein and building their models. We evaluate the models for their accuracy and relevance to the function of the protein. On the day of the competition, the teams build another model of a shorter peptide and complete a short written exam to demonstrate that they have mastered the material.

The models are evaluated by teams of judges consisting of a graduate student in the Master of Arts in Science Teaching program (MAT) and a professional research scientist, either from Stony Brook University or from our sponsor. The judging teams are integral to meeting CESAME's goal of improving future science education by bringing together research scientists and future teachers. We award prizes for first, second and third place overall, best model and highest score on the exam. In addition we have a People's Choice category for which the students choose the winner.

This program is the result of a productive collaboration among the science education and research faculty at Stony Brook University, research scientists of Astellas Pharma US, and enthusiastic teachers from the participating school districts. The program was adapted from a program created by the Center for Biomolecular Modeling at The Milwaukee School of Engineering (cbm.msoe.edu). After four years of the Protein Challenge we have learned many things. Foremost is that high school students are an inspiring group, capable of absorbing and synthesizing incredibly complex material.
In addition, they will make insightful links when given the opportunity. For example, one team used pompoms to represent side chains; they put eyes on hydrophilic side chains because hydrogen bonds can be compared to looking at someone rather than holding hands as in a covalent bond. High school students are also eager and able to delve deeply into a topic, searching far and wide for information. Given the opportunity, they love to share what they have learned. During the People's Choice segment, you can hear students sharing detailed information and evaluating the models at a sophisticated level. A lunch is held to facilitate connections between research scientists and the students. This event has fostered many productive conversations about careers and opportunities in science. In the past, the winning teams have toured the OSI Pharmaceutical Research facility on Long Island. The lunch and tour interactions introduce students to new career options and give research scientists an opportunity to share their passions. In the first year, twenty teams participated; we are now running at full capacity with 36 teams, more than 400 students in four years.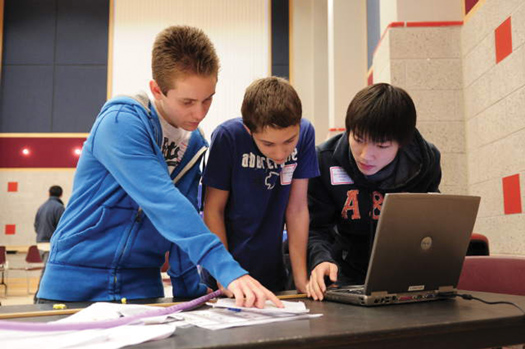 Bringing research scientists together with MAT graduate students had been incredibly valuable for these students. These graduate students have all earned bachelor's degrees in a science discipline; in the MAT program they hone their teaching skills before moving on to teach secondary school science. This program gives them an opportunity to revisit their knowledge of basic chemistry, proteins and biology. The combination of building their own models and judging the models built by high school students reinforces the MAT students' understanding and confidence. The graduate students and research scientists work together as a team for approximately three hours. This close contact with a scientist leads to productive discussions about the process, the opportunities, and the joys of research. Our goal is that this exchange will enrich the teaching of high school science.

We have also learned that many high school science teachers are avid learners and anxious to bring the latest information into their classrooms. CESAME has close collaborative ties with area teachers though our outreach and continuing education programs. All the teachers involved in this program participated in workshops on molecular modeling either though CESAME at Stony Brook University or at the Milwaukee School of Engineering. Through these workshops, the teachers learn to use models and valuable online resources such as the RCSB PDB, Proteopedia and PubMed Central. During the competition, a faculty member from Stony Brook University leads a seminar for teachers. In the past, faculty have presented programs based on their work in cognition and cancer biology. This program is a practical way to gather teachers and scientists to share information.

When we started the Stony Brook University Protein Challenge we hoped to educate students and teachers about the cool stuff proteins do. We have been very pleased that this has succeeded to the extent that nine schools have gone on to develop extracurricular programs in protein modeling. We are most pleased to see the excitement and sharing that this program has fostered among high school students, graduate students, teachers, and scientists.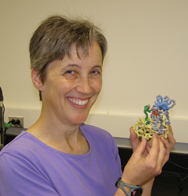 Joan Kiely is the Director of the Biotechnology Teaching Centers (BTC) at Stony Brook University and the Principal Investigator of the Astellus Grant. In addition to overseeing the Protein Challenge, she teaches courses in microbiology for secondary school teachers, laboratory science curriculum development, and is developing a course for teachers on model systems in biology. She earned her Bachelor of Science degree in Microbiology from Michigan State University and a Master's Degree in Molecular Microbiology from Stony Brook University. After 18 years of biomedical research, she joined the faculty of CESAME in 2000. The Center for Science and Mathematics Education at Stony Brook University (CESAME) hosts the Protein Challenge as part of an outreach program. CESAME's goal is to improve science education at the secondary and college levels. CESAME offers programs for high school students and teachers, undergraduates interested in research or teaching careers, graduate students, post-doctoral fellows, and faculty. The Protein Challenge is funded through a generous grant from Astellas Pharma US. For more information, please see www.stonybrook.edu/cesame.