OUTREACH AND EDUCATION
Papers Published

The December issue of Nature Structural & Molecular Biology contains a special essay collection called Celebrating Structural Biology (paywall). Coinciding with the 40th anniversary of the PDB, it features personal accounts that describe the history and predict the future of structural biology. Included are the reflections of RCSB PDB director Helen Berman on The evolution of the Protein Data Bank.

Celebrating structural biology. Tom L Blundell, Stephen C Harrison, Robert M Stroud, Shigeyuki Yokoyama, Lewis E Kay, Michael G Rossmann, Helen M Berman, Alexander Wlodawer, Elena Conti, Brian Kobilka, Janet M Thornton, David Cowburn, Nenad Ban, Olga Boudker (2011) Nature Structural & Molecular Biology 18: 1304-1316 doi: 10.1038/nsmb1211-1304.

Other papers published:

Target highlights in CASP9: Experimental target structures for the critical assessment of techniques for protein structure prediction (2011) Proteins: Structure, Function, and Bioinformatics 79: 6-20 doi:10.1002/prot.23196

The Protein Data Bank: Evolution of a key resource in biology in Leadership in Science and Technology: A Reference Handbook (William Sims Bainbridge, editor) SAGE Publications, Inc., 2012.
---
Molecule of the Month News

The RCSB PDB's Molecule of the Month and related resources help promote a structural view of biology. Visit the latest features at PDB-101, including: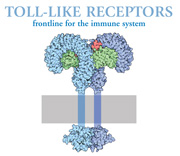 In their research, Beutler and colleagues discovered the role of a TLR that recognizes lipopolysaccharide. A downloadable flyer (PDF) highlights an example of this TLR structure using PDB IDs 3fxi and 2j6.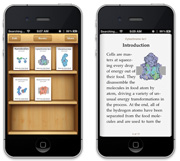 Molecule of the Month ePubs.


RSS Feed. Subscribe to the PDB-101 RSS (Really Simple Syndication) Feed to access Molecule of the Month columns as they are published. This feed pushes the articles to RSS readers so users can easily view the latest articles. Access this feed by selecting the RSS icon PDB-101 header.

Toll-like Receptors Flyer. November's Molecule of the Month feature explores TLRs and the innate immune system in honor of the 2011 Nobel Prize in Physiology or Medicine. The award was divided, one half jointly to Bruce A. Beutler and Jules A. Hoffmann for their discoveries concerning the activation of innate immunity and the other half to Ralph M. Steinman for his discovery of the dendritic cell and its role in adaptive immunity.
ePubs (Electronic Publication): Articles are now available as a downloadable ePub document, which can be viewed offline in ePub readers on mobile devices (such as iBooks for Apple mobile devices, and Aldiko for Android devices). To download a Molecule of the Month ePub, click on the link at the top of any feature.
Interactive Molecular Views for Mobile Devices: PDB-101 Structure Focus pages, which highlight the PDB entries highlighted in Molecule of the Month articles, feature interactive molecular views. The ability to rotate the molecules on these pages has now been enabled for mobile devices. For an example, select one of the Discussed Structures from the top of any article to view its Structure Focus page, or go to http://bit.ly/uCXmTS for ribonuclease A entry 5rsa and rotate the molecule about the Y-axis by dragging on the image left and right.
PDB40: A Special Celebration of the 40th Anniversary of the Protein Data Bank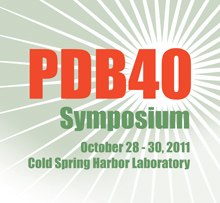 On October 28-30, 2011, Cold Spring Harbor Laboratory hosted a unique meeting to commemorate the 40th anniversary of the PDB. PDB40's distinguished speakers described structural biology's past as well as current research in related fields. Close to 100 posters were presented. Travel awards were made for 34 early career scientists from around the world.

Selected presentations and links to a photo gallery have been posted to the PDB40 website at wwpdb.org. Future updates related to this meeting will be posted to this site.

The wwPDB organizers of this event are grateful to our industrial sponsors and funding agencies for their support of this meeting. Thanks to everyone who made PDB40 such a success.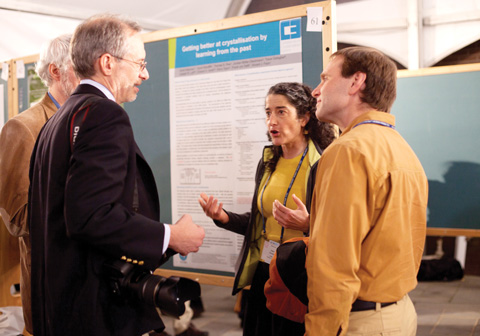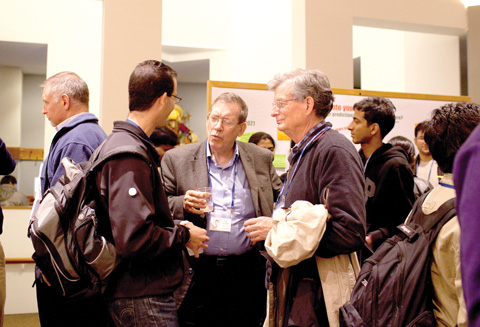 Photos by Constance Brukin.