Education Corner

Rachel Kramer Green
, received her Ph.D. in 1998 in Chemistry from Rutgers University. Her research thesis, conducted in the laboratory of Professor Helen M. Berman was entitled The X-ray Crystallographic Studies of Collagen-like Peptides. As she was concluding her degree, the management of the PDB was moving from Brookhaven National Laboratories to the RCSB PDB. Rachel coordinated the transition of data processing for the PDB from Brookhaven to the RCSB. Following the move of her family to Denver, Colorado in 1999, Rachel continued to work remotely for the RCSB PDB performing a variety of jobs including assisting in website development, writing electronic and print outreach materials as well as managing the help desk. Rachel is now in her 13th year of working for the RCSB PDB project.
The Ins and Outs of the RCSB PDB Help Desk: What do we learn from our users? What do they learn from us?

by Rachel Kramer Green, Ph.D.
Did you ever wonder what happens when you fill out the form on the
Contact Us
page (Figure 1) at the RCSB PDB website? Who is going to answer you? What types of questions do your colleagues ask?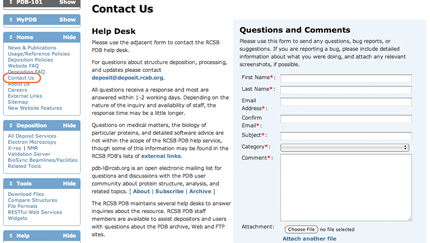 Figure 1: The Contact Us page.
The RCSB PDB Help Desk supports people from all over the world who write daily for assistance with the website, archive and general structural biology. About 1000 electronic conversations are initiated by nearly as many unique users in any given year. Many queries also lead to additional questions and clarifications. Questions come from students new to structural biology, users interested in the general study of science, and domain experts from various disciplines that utilize PDB data.

Once you press the Send your feedback button, a copy of your question or comment is delivered to me to answer or triage to other members of the RCSB PDB team. Simultaneously, a ticket is loaded into our tracking system so that we are sure to follow-up on each and every message. From that point, a team of scientists, computer specialists, and educators are available to assist with your needs.
Managing the Help Desk
From my college days, I was fascinated by the idea of a crystal as an orderly array of molecules. Once in graduate school I learned that not only was this a cool thing, but that from it you could figure out what the stuff in the crystal looked like and then how it worked. I have also always been an avid reader, fascinated by words and the use of the English language. As the long self-proclaimed grammar police with a grandmother who would send me back my letters with spelling and grammatical mistakes corrected, editing and writing were always close competitors with science as my main intellectual interest. After editing both my high school and college newspapers while exploring and majoring in chemistry, the idea of explaining and teaching science to lay people was always intriguing to me.

My work with the RCSB PDB's Help Desk has allowed me to do just that. Users write in from all over the world, and I have been fascinated by the different written cadences and expression with which users from different nationalities write. But, don't worry too much about your English when you write, I always enjoy figuring out what you are asking. On occasion, an email arriving in Italian or German has even provided me the opportunity to try out Google Translate.

In fact, that is one of the things that I love most about my job. Each question is a bit of a mystery. Some are more easily solved with a single link or comment, and others require some research and consultation with my colleagues. What is the user asking? Do we provide anything that will help? Do we need to develop something that will? If there is a problem, can we correct it easily, or will it take some extended effort?

Users also write with all levels of experience. Some ask for help with homework with interesting questions. Others are power users of the archive and website whom I am privileged to have been able to help over the course of years.
Some Common Types of Questions
Over the years, the types of questions have changed as ever-continuing website development and data remediation efforts have made the resource much more usable and accurate. Questions and comments to the email help desk have become much more about research queries and suggestions for new features than about things that need to be changed, more easily found, or fixed. Look and feel updates to the website over the years (Figure 2) have made access to the website and the underlying data a much more user-friendly experience.

While you write about many, varied types of things, questions to the Help Desk tend to be evenly split between deposit and query-related issues with the remainder concerning outreach, file format, problems with service (these often stem from external firewall issues), the use of molecular viewers, and data download questions (Figure 3).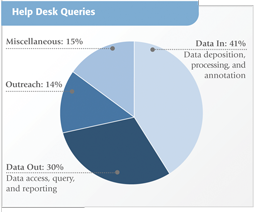 Figure 3: From the 2012 RCSB PDB
Annual Report - types of questions to the
help desk.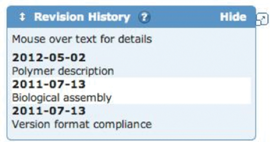 Figure 4: The Revision History widget
was created in response to user requests.
One deposit-related category that appears frequently is a user writing to let us know that a citation has been published and that the corresponding structure entry can thus be released. While we do use an internal scanning tool to identify new PubMed entries and receive citation notifications from journal representatives, email messages from authors and users alike are very helpful in our efforts to release entries in a timely manner.
Frequently, user questions regarding various aspects of the site lead to improvements and the implementation of new features. Such comments help us to identify in which areas users are most interested and where we should place our development efforts. For example, frequent requests for a version of RCSB PDB
Mobile
for the Android platform led to work in this area. As a result, an app is now in alpha testing. Also the desire of users to be able to easily review changes that have been made to PDB files led to the implementation of a
Revision History
feature on the Structure Summary pages (Figure 4).
One area of regular interest is how to conduct a particular search or how to generate a report of a particular type of information available in the database. These types of questions let us know the kinds of searches in which users are interested, and show us areas where we may need to add functionality. Many improvements that have been made to searching and reporting features (such as the recent addition of an option to search by method used for structure solution - MAD, SAD, Molecular Replacement, etc.) have in a large part stemmed from user comments and suggestions.

File format is another area that generates many queries to the Help Desk. Whether for deposition or programming purposes, detailed explanations and direction to the appropriate places in the documentation are given. One common question regards the difference between the sequence found in the SEQRES records and that found in the coordinate records. In general, the SEQRES records and FASTA sequence gives the entire sequence studied (even if some of it was not experimentally observed) and the coordinate section gives only what was experimentally observed. In the PDB format file, REMARK 465 lists discrepancies between the SEQRES and the coordinate section. Along with visual and functional improvements to the sequence tab of the Structure Summary page, sequence-related questions to the Help Desk led to the development of the section Primary Sequences and the PDB Format on PDB-101's Looking at Structures resource and more detailed documentation on the website.

Interaction with the user community also alerts us to problems on the site or inaccuracies in the archive of which we might otherwise be unaware. Often we can provide a quick fix for these problems (even within the day or week), and other times the solution may require a data remediation effort, for example when new information becomes available over time, or a complicated fix to the site.
The Help Desk and Outreach
The Help Desk is one of the many tools the RCSB PDB utilizes in its outreach efforts. In 2012, ~13% questions related to outreach and education. Interactions with journals, publishers, teachers and students regarding our images and educational materials both promote our activities and provide us with valuable feedback about the features that are most used and new ones that may be helpful to the community.

Many outreach-related emails include requests for permission to reprint a particular image in materials both in English and a variety of other languages. These questions come from a vast sampling of the community, including journal and textbook authors and editors; doctoral students completing their theses; creators of webpages, posters, animations, sculptures, and online educational materials; documentary producers; teachers and professors for use in their lectures and classroom materials, and many others. Many are referred to the RCSB PDB Policies & References page. One recent request led to the inclusion of a Molecule of the Month image on the NPR science blog post by Robert Krulwich on the different ways proteins can be visualized.

Many users are interested to learn how the popular Molecule of the Month images are created. I am able to direct these queries to an interview with the author and illustrator of the series, David Goodsell, that was published in our newsletter in 2003.

Other questions relate to our print and electronic publications - the newsletter, annual report, posters, and online tutorials. We also occasionally receive queries regarding the history of the PDB and RCSB PDB.
Tracking System
Many of the improvements that we have made regarding user-satisfaction have resulted from the institution of an issue-tracking system for the Help Desk that is integrated with our website development tracking system. This system ensures that users receive timely responses and gives us the ability to notify users when their issues and suggestions have been resolved or implemented. Using the tracker also enables us to have an overview of new features that would be of interest to the most users.

We have also found the tracking system to be useful to monitor when busy and slow periods occur. For example, as you might imagine, the end of summer and the period between Christmas and New Year's are particularly light times.

Over the years, I have learned so much from all of you about your interests. And every once in a while someone writes from here in Colorado and I grin to myself that I am undercover "right next door" (although now the secret is out). And sometimes, someone writes about a collagen-related structure and I get to discuss a little bit about this molecule that I came to love. Recently, I realized that I miss my users when you are quiet... so please, keep up the emails. I love to hear from you.